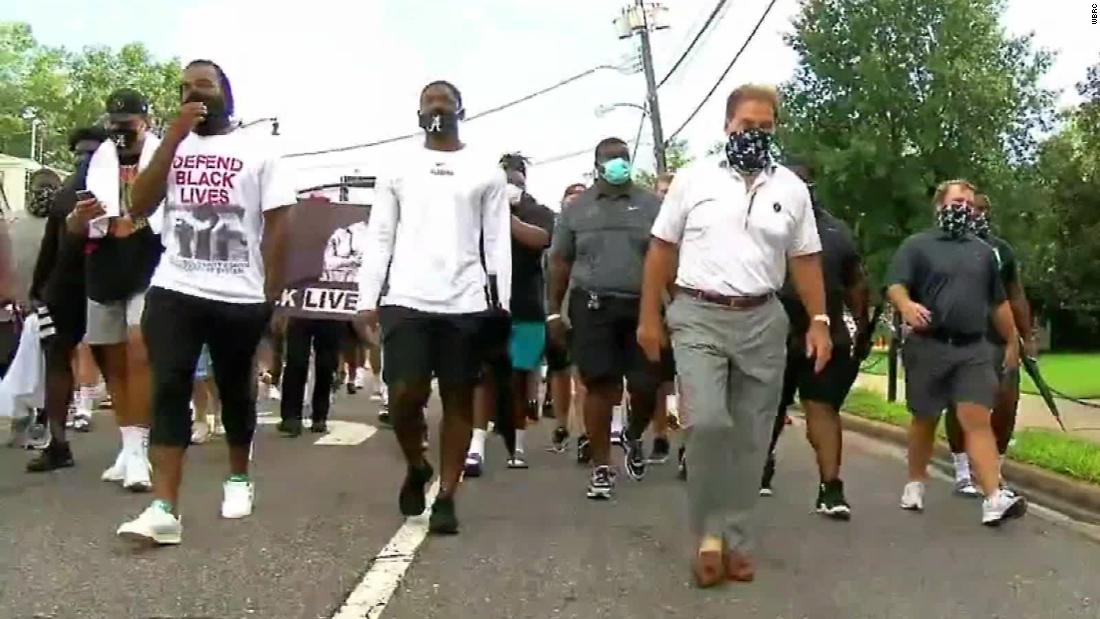 A march for equality organized by football players of the University of Alabama ended on Monday at the location on campus, where-gov. George Wallace stood up to prevent black students from entering in 1963.
"We walked to the door of this little house intentionally, because a lot has changed in the last 57 years, not a lot of things have happened," Alabama racer Nazi Harris told the crowd, "Defend Black Lives" T-shirt clad in.
With "Black Lives Matter" banners and signs, the number of youngsters decreased.
The incident is in the midst of widespread civil unrest in the country since the death of George Floyd during an arrest in Minnesota in May, with protests against everyday racial injustice in places like Portland, Oregon, and Kenosha, Wisconsin, In which Jacob Blake was shot seven times by the police.
The football team posted a moving racist, pro-equality
Video on twitter
In june. Coach Nick Saban said the march was the team's idea.
"We want all Alabama athletes to join us," Harris said
Tweet
March promotion on Friday. "This is not a fan day … this is not a football game … this is about permanent change!"
"Today, I'm like a parent," Saban said.
"I am very proud and supportive that they are trying to say peacefully and wisely."
The marching students indicated that read: "As long as black life matters, all life does not matter," and "stand for something or fall for something."
"I'm only a 22-year-old man," said Chris Jones, a student. "But the things I have seen and experienced in my life are enough for me to struggle with the people in this society."
.