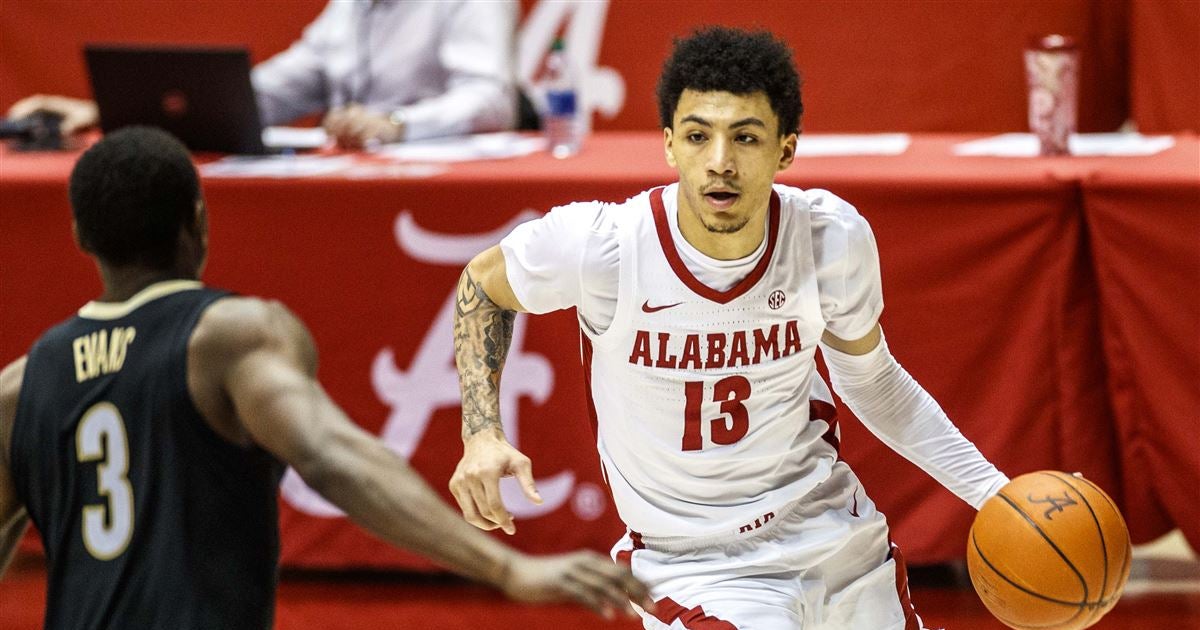 One thing we know is that Nate Oats is not a chicken. He was wet Saturday night, but he wasn't angry. He was happy, happy, happy in Starkville, Miss., Where Alabama defeated the Mississippi State Bulldogs, 64-59.
With that victory came Crimson Tide winning this season's Southeastern Conference regular-season championship with two games to play. And with that championship came the Bama players who included in their celebration spraying their head coach with a bucket of water.
There was also music and dancing in Tide's dressing room as Alabama improved to 19-6, including a 14-2 record in the SEC.
Alabama has its last home game of the season when the Tide host Auburn at 7 pm Tuesday at Coleman Coliseum. Bama won the game at Auburn, 94-92, on January 9. The Tide will wrap up next Saturday in Georgia, then begin playing as the No. 1 seed in the SEC Tournament, which is March 10-14 in Nashville.
Oats credited three Alabama seniors who are from the state: John Petty, Jr., of Madison, Herbert Jones of Greensboro and Alex Reese of Birmingham.
"If they didn't accept, we won't do this," Oats said of the championship celebration.
"I told them, 'This is your team,'" Oats said. "They wanted to change how people thought about Alabama basketball, and they did."
Although, he said that the three seniors "all shot badly" in the title game, "they all played hard."
That echoed a previous observation by Oats that sometimes shots don't fall, but that there are other ways to win games, particularly defense and rebounding. And after a loss in Arkansas earlier in the week, he emphasized "control what you can control." On Saturday night he said: "They did a good job of control."
Oats said: "I am very proud of our players. It's not easy to win an SEC championship. They played hard, the hardest we have played in a long time ".
Point guard Jahvon Quinerly, who came off the bench but played 27 minutes, led Tide's offense with 19 points, 15 of them in the first half. Jaden Shackelford was the only other Tide player in double figures with 19. Herbert Jones scored just 2 points but had 14 rebounds, including 6 offensive rebounds. Petty and James Rojas had 9 points each.
Alabama made 21 of 65 shots from the field, just 32.3 percent. The Tide was 7-28 on 3s, just 25 percent. Bama made 15-17 free throws.
Teams went opposite directions on shooting, as Alabama made just 25.7 percent of its field goals in the second half, while Mississippi state was 53.6 percent after intermission. For the game, the Bulldogs were 24-59 from the field (40.7 percent), but only 1-12 on 3s (8.3 percent) and 10-17 on free throws (58.8 percent).
Alabama rebounded the Dogs 45-40, with Tide with 17 offensive boards, State 11. Mississippi State held a 36-26 lead in points in the paint and a 17-10 lead in second-chance points.
Bama had 14 turnovers, the Bulldogs 16 with the Tide scoring 12 points from State, the Dogs 11 from Alabama.
Alabama had 19 fast break points, Mississippi State 6.
Substitute players for The Tide scored 36 points, State's bench just 5.
Mississippi state, which fell to 13-12 overall and 7-9 in the SEC, had three players in double figures: DJ Stewart with 15, Tolu Smith with 12 and Iverson Molinar with 11.
Alabama made it interesting, to say the least. The Tide held a 13-point lead at halftime, but the Bulldogs came out of the locker room and posted an 8-2 run before Bama righted the boat and regained the double-digit lead.
State had a late run. With 8 1/2 minutes to play, Tide's lead was 10 points, 54-44. The Bulldogs taking free throws cut it to 7 and an out tray had cut the lead to 54-49 with 6:15 to play.
A Shackelford layup stopped the bleeding, but moments later it was 56-53. Backup forward James Rojas is one of the most unlikely three-point shooters on a team full of those, but he nailed a corner three with just under a minute to make it 59-53. From there, Bama finished with 5-6 free throws against State's four free kicks and an unopposed layup at the buzzer.
Quinerly set the pace for a solid first half as the backup guard scored 15 points in the first half, including two on a counterattack after a serve that gave Bama a 34-21 lead at intermission.
Alabama went 13-0 midway through the half, keeping the Bulldogs scoreless as Tide went from trailing by a basket at 7-9 to a 20-9 lead. Alabama held that 11-point margin for most of the rest of the half, Mississippi State never got closer to 8. The only tie was at 2-2 and there were only three lead changes, the Tide leading through the last 11: 42 half.
The Bulldogs scored just 9-32 field goal attempts, 28 percent, and Alabama held a 26-19 rebounding lead, 9 from Herbert Jones. Both teams had 11 turnovers, but Alabama scored 11 points for State errors and the State scored no points for Bama losses.
Tidal Notes: Alabama starters were forward Herb Jones, low post Jordan Bruner and guards Josh Primo, John Petty, Jr. and Jaden Shackelford.
When Alabama hosts Auburn on Tuesday, halftime will include the presentation of the James E. Foy-ODK Sportsmanship Trophy to Alabama for a 42-13 Tide victory over the Tigers en route to the Bama national championship's undefeated season.
Alabama thus wins the SEC Championship in both men's soccer and basketball in the same academic year, the first time it has happened in the league since Florida did it in 1997. Bama has done it several times, but the most recent was not. recent … 1975-76.
Bama improved his all-time record against the state of Mississippi to 128-77. The Tide ended a three-game losing streak at Starkville and now has a 43-55 record at State.