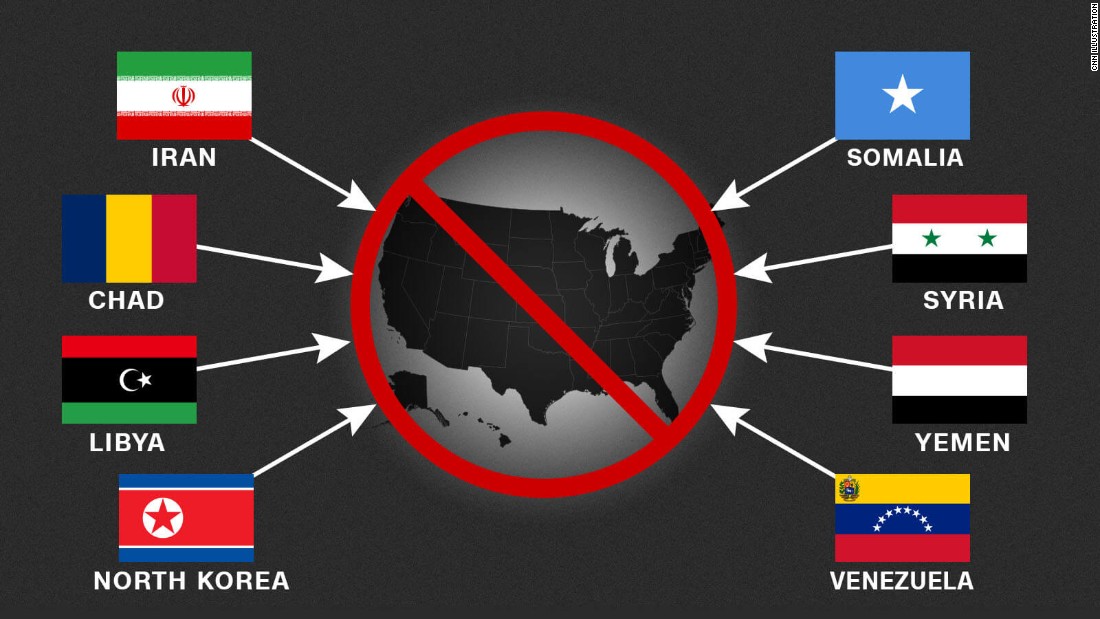 1. Travel ban
2. Roy Moore
What a difference a month ago. For much of November, it seemed that the Roy Moore Senate campaign in Alabama was a sinking ship. Now it's December, and he's full of energy after President Trump endorsed him, Senate Majority Leader Mitch McConnell softened his tone and the RNC is giving money back to Moore.
So, what made the GOP look beyond sexual harassment and the assault lawsuits against Moore? Outdated policy. The polls show a very tight race, and the Republican Party really can not afford to lose a single seat in the Senate if it wants to advance its agenda. However, there is still at least one influential dissident voice on the right. Mitt Romney tweeted that Moore's election would be a "stain on the Republican Party" and that no victory was worth "losing our honor."
3. Paul Manafort
A bail agreement between Paul Manafort and special adviser Robert Mueller is in danger. Mueller's team said Manafort was writing an opinion piece with a Russian linked to the Russian intelligence service. Mueller's office believes that Manafort, President Trump's former campaign president, is trying to influence public opinion in his case, and asked the court to reconsider the 10-million-dollar bail agreement. Manafort, who has been under house arrest for weeks, faces 12 counts in Mueller's investigation, including the conspiracy. He has pleaded not guilty.
4. Yemen
The former president of Yemen was killed by Houthi rebels when he was trying to flee the capital. The death of Ali Abdullah Saleh means that there is a very real possibility of shedding more blood in a conflict that has already killed thousands and left 8.4 million Yemenis at risk of starvation. Just two days ago, Saleh said he was ending an alliance with Houthis backed by Iran and seeking a new relationship with the Saudi-led coalition that has been fighting the rebels and maintaining a partial blockade. But for Saleh, that bet turned out to be fatal. Therefore, this war of power in Yemen between Saudi Arabia and Iran will continue.
5. Network Neutrality
The FCC will vote next week to repeal net neutrality rules, but Democrats want it to be delayed. They say there is evidence that more than a million comments sent to the FCC on the subject were false. And the New York attorney general says the identifications stolen from the Americans were used to make the false comments. The Democrats want all this to be seen before a vote. The rules now prohibit Internet providers from accelerating or slowing traffic to and from specific sites and applications. The proposed rules would allow that while it is publicly revealed.
NUMBERS OF THE DAY
2
The number of proclamations that President Trump signed to reduce the national monuments of Bears Ears and Grand Staircase-Escalante in Utah. Environmental and conservation groups are demanding.
9
Number of US media outlets labeled as "foreign agents" by Russia.
BREAKFAST BROWSE
People are talking about this. Read. Join in.
Madame President
"House of Cards" will return for a final season of eight episodes starring Robin Wright and will eliminate Kevin Spacey completely.
Cross appeal
PBS is looking for a Charlie Rose replacement and one is found, at least temporarily. "Amanpour" by CNN will be aired on PBS on a provisional basis.
Frozen
That short "Frozen" that features Olaf running before "Coco" is being abandoned. Probably because that "short" is a not so short of 21 minutes.
The robots are coming
Yes, they will probably take all our jobs, but at least they will be useful in the kitchen, where they can use their voice technology and 3D printers well.
WHAT IS LUNCH
& # 39; Under the skin & # 39;
The cuts covered the body of his son after a police officer shot him dead in Chicago, and Cynthia Lane wants answers. Rosa Flores of CNN investigates. Watch Episode 1 of "Beneath the Skin", a CNN digital series in three parts.
AND FINALLY …
Ridin & # 39; the rails
Yes, Thomas the Tank Engine is an excellent character for children, but he is also a pretty perverse specialist. (Click to view)
Source link