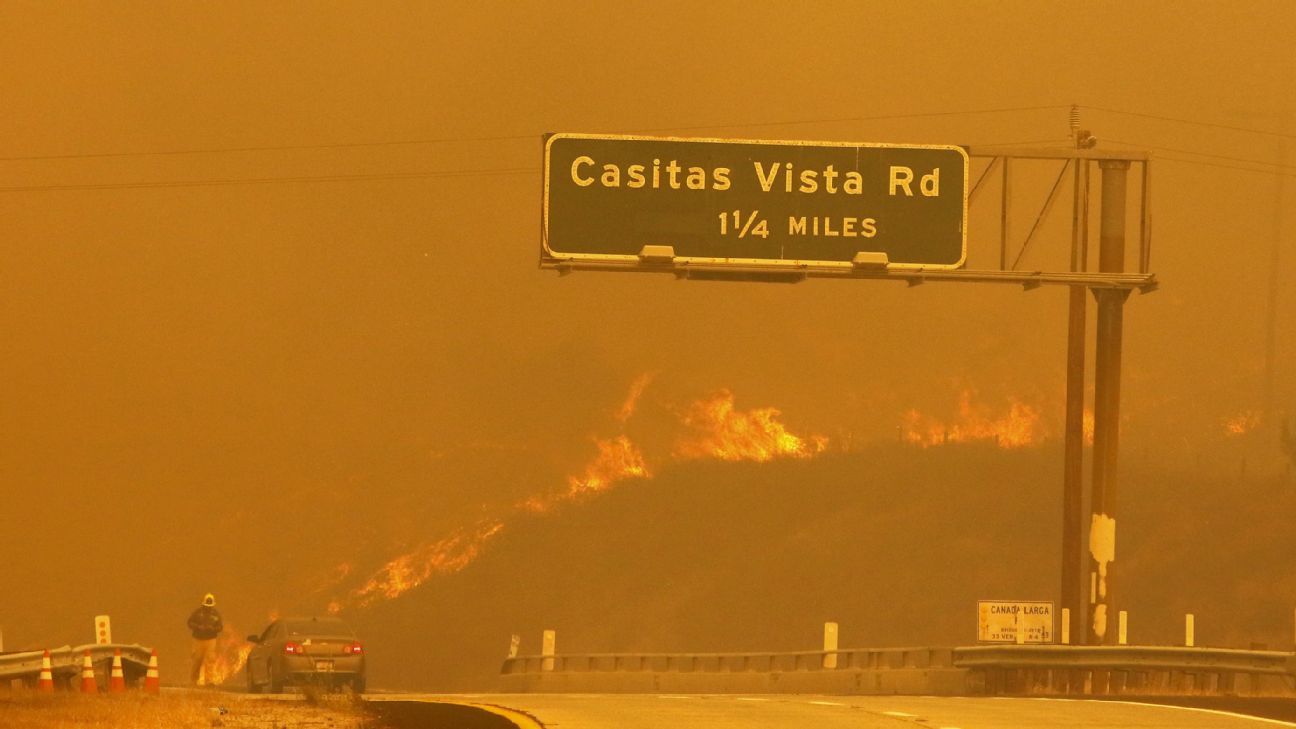 [ad_1]
SAN DIEGO – Approximately 25 race horses were killed when a fire ravaged about eight barns at a training center in northeastern San Diego County, California Racing Board said Friday.
The horses that were in the surrounding pastures remain unaccounted for.
About 500 horses were housed at the San Luis Rey Downs training center in Bonsall when fire broke out amid the strong winds of Santa Ana on Thursday and workers risked their lives to release horses from stalls and take them to areas more secure. he said
Horses worth hundreds of thousands of dollars that normally walk carefully from one place to another were simply released and encouraged to flee when the flames engulfed the center, which is a few miles from where the fire broke out. 19659002] Mac McBride, who was working with the center's coaches, said it was "total pandemonium when several hundred horses were cut."
When it was safe to bring vans, surviving horses were taken to the Del Mar racecourse.
"There was so much smoke that it was hard to see," said horse trainer Dan Durham, who got his 20 cornered horses and was loading in vans to be evacuated. "Some of the horses were released to be safe, they were scattered everywhere."
San Luis Rey Downs is home to horses that run on Del Mar and other California tracks such as Santa Anita Park. Doug O & # 39; Neill, whose horses have won the Kentucky Derby and Breeders & # 39; Cup races, is among the coaches who keep at least part of their stable there.
The sign on the front calls it "Home of Azeri," the now-unfortunate mare that was the 2002 US Horse of the Year that won more than $ 4 million in her career.
The Los Alamitos racecourse, the track where the rotary thoroughbred circuit of Southern California is currently running, canceled all races on Friday so that the racing community could mourn.
Horse trainer Scott Hansen said he knows that some of the 30 horses he had at the facility were killed.
"I do not know how many are alive and how many are dead," Hansen said. "I think I'll have to solve it in the morning." For now, he said he was concentrating on taking his horses that survived the evacuation centers.
Another trainer, Cliff Sise, told KFMB-TV that he saw the death of about 10 horses, including his own filly.
"It was dark, everything was hot and she would not go in. I opened the pen and tried to get behind her and take her out, and she would not go out," Sise said. "He burned himself to death so quickly"
[ad_2]
Source link