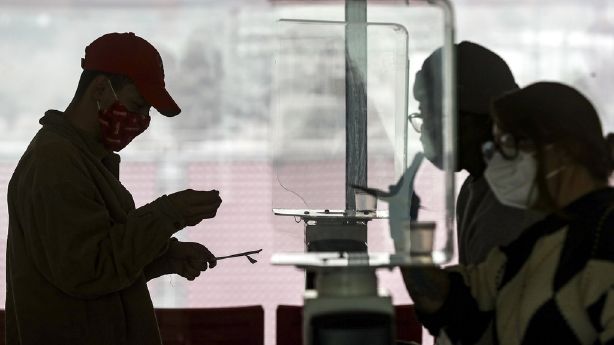 SALT LAKE CITY – A case of the Brazilian variant COVID-19 was detected in Utah, according to the Centers for Disease Control and Prevention.
A spokesman for the Utah Department of Health confirmed Monday that a case of the variant was found in the state. The Brazilian variant of the disease is also known as the P.1 variant, and a total of 54 cases of that variant have been reported so far in the US, according to the CDC.
Arizona is currently the only state bordering Utah that has also detected the P.1 variant, with four cases. Florida currently has 21 cases of the P.1 variant, the most of any US state, according to the CDC.
There have been 150 cases of the B.1.1.7 COVID-19 variant, which originated in the United Kingdom, detected in Utah so far, according to the CDC. That variant was first detected in Salt Lake County in January. There are currently 6,390 confirmed cases of the UK variant in the US So far, the CDC reports.
So far, no cases of the B.1.351 variant, which originated in South Africa, have been detected in Utah. There are 194 cases of the South African variant in the US as of Monday, according to the CDC.
Although the CDC has reported only one case of the P.1 variant in Utah, there may already be many more unconfirmed cases of the variant.
Public health laboratories perform whole genome sequencing on a limited selection of COVID-19 samples taken from PCR tests to confirm variant cases, according to the Utah Department of Health. The sequencing process is time consuming, so there is typically a delay in reporting variant cases.
Dr. Kelly Oakeson, chief scientist for next-generation bioinformatics and sequencing at the Utah Public Health Laboratory, said in January when the UK variant was detected in Utah that he believed was likely more widespread in the state than just a case.
"We're not sequencing every positive sample, so we're only sequencing about 10%, in a few months a little less than that," Oakeson said. "So if we detect this quickly as we were looking for it, it tells us that it is probably more widespread than just this individual."
COVID-19 vaccines have shown mixed, but generally successful, results against variants of the virus.
A study of the Pfizer vaccine published earlier this month showed strong protection from the Brazilian and UK variants of the virus, while protection against the South African variant was "strong but lower," according to the study.
Utah Department of Health state epidemiologist Dr. Angela Dunn said earlier this month that there are ways beyond vaccines to protect Utahns against variants of the virus.
"It's so important that when the vaccine is available, you get it," Dunn said March 11. "Plus, we know how to protect ourselves against variants, right? Masks work. Physical distancing works. Staying home when you're sick, everything works. So let's keep using those tools until we get vaccinated."
×
Related stories
More stories that may interest you